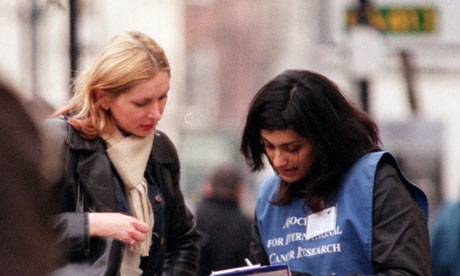 Street fundraising has become increasingly unpopular but is not the
only method complained about. Photograph: Andy Hall
Many people believe charities should stop using these techniques before they irreversibly blacken the name of the sector. But is the use of controversial techniques worth the reputational risk? And what, if anything, can be done to improve perceptions?
A fair and important point. But how do the experiences of those people who don't like these techniques impact on giving levels? DM may raise millions of pounds from the 1.5% who respond to cold appeals, but what about the other 98.5%? F2F may raise millions from the people who sign up. But what about those who were asked and said no? Could it be that more money could be raised if only people were asked in a more appropriate way?
"Research into attitudes and irritations would be helpful," agrees Alistair McLean, chief executive of the FRSB. "What one person thinks is aggressive another will think is ok. To cross-reference this with age could help charities get the balance right when they are making approaches."
In his view, however, this is not about stopping using particular tools, but about education, starting within charities themselves: "There would be great merit in those people who sit outside the fundraising community understanding more about how all fundraising works," he says.
More advocacy combined with research into how experiences of fundraising impacts on propensity to give could go a long way towards both satisfying the critics and strengthening confidence across the board. As the FRSB's McClean says: "The public's high level of trust is a privilege not a right. Charities need to work hard on all fronts to protect the reputation they enjoy."
'via Blog this'